PAM8610 2 Channel * 10 Watt Class D Stereo Audio Power Amplifier Module with Volume Control Pot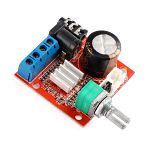 This PAM8610 module is a 10W, class-D stereo audio amplifier. It offers low THD+N, allowing it to achieve high-quality sound reproduction, all in a compact form factor. It can operate from a 9V or 12V power supply or battery, and includes power switch and mute switch connectors, a volume control potentiometer and speaker connector screw terminals for ease of use.
It can be used in any DIY design requiring a miniature audio amplifier, especially portable and mobile applications operating on battery power.

Features:
Operates on any voltage from 7.5V to 15V, conveniently powered with a 9V or 12V power supply or battery. The current required is dependent upon the output power, typically a power supply capable of providing 2 Amps of current is adequate.
Output: 10W + 10W (L + R) output power into an 8Ω speaker load and 12V power supply.
Screw terminals for easy speaker connection – no soldering needed.
Noise-canceling circuit built into the amplifier board.
Power on / off without popping noise.
Includes power switch and mute switch connectors (wire external SPST switches to these connectors to provide remote power on/off and mute) and volume control potentiometer.
The module has short-circuit current protection, under-voltage lockout, and over-temperature protection (shuts down at an internal temperature of 140C +/- 15C).
Specifications:
Audio input connector: 3.5mm stereo headphone jack
Output power: 10W + 10 W (8Ω)
Frequency response: 20Hz to 50KHz
Amplifier class: D, 90% efficiency
Operating voltage: 7.5 – 15V DC
Power connector: 5.5mm / 2.1mm barrel connector DC power jack. The center pin is positive (+), outer barrel is negative (-)
Recommended supply voltage: 12V, 2A
Quiescent Current: 20mA
Speaker Load: 4-8 Ohms, 8 Ohms recommended, screw terminal connectors
Size: 40 x 40 x 22 mm (L x W x H); 55 x 40 x 22 including volume control knob
Net weight: 24g
Installation and Operation Notes:
Left and right channel "negative" connections should not be connected together, otherwise, it may damage the module. Speakers (load) should be connected before power is applied to the module.

The Power Switch connector (the 2 pins closest to the Potentiometer) must be connected to operate. If a remote switch is not used, please install the included jumper to connect the two pins, as shown in the photo above.
The heatsink supplied with the amplifier should be attached to the amplifier IC prior to use (see photo above). Simply remove the backing from the double-stick tape and press onto the IC.
Copyright © 2016-2023 Envistia Mall
www.envistiamall.com
P/N EM-AUDIO-0004