HC-SR501 PIR Motion Detector Sensor Passive Infrared Receiver Module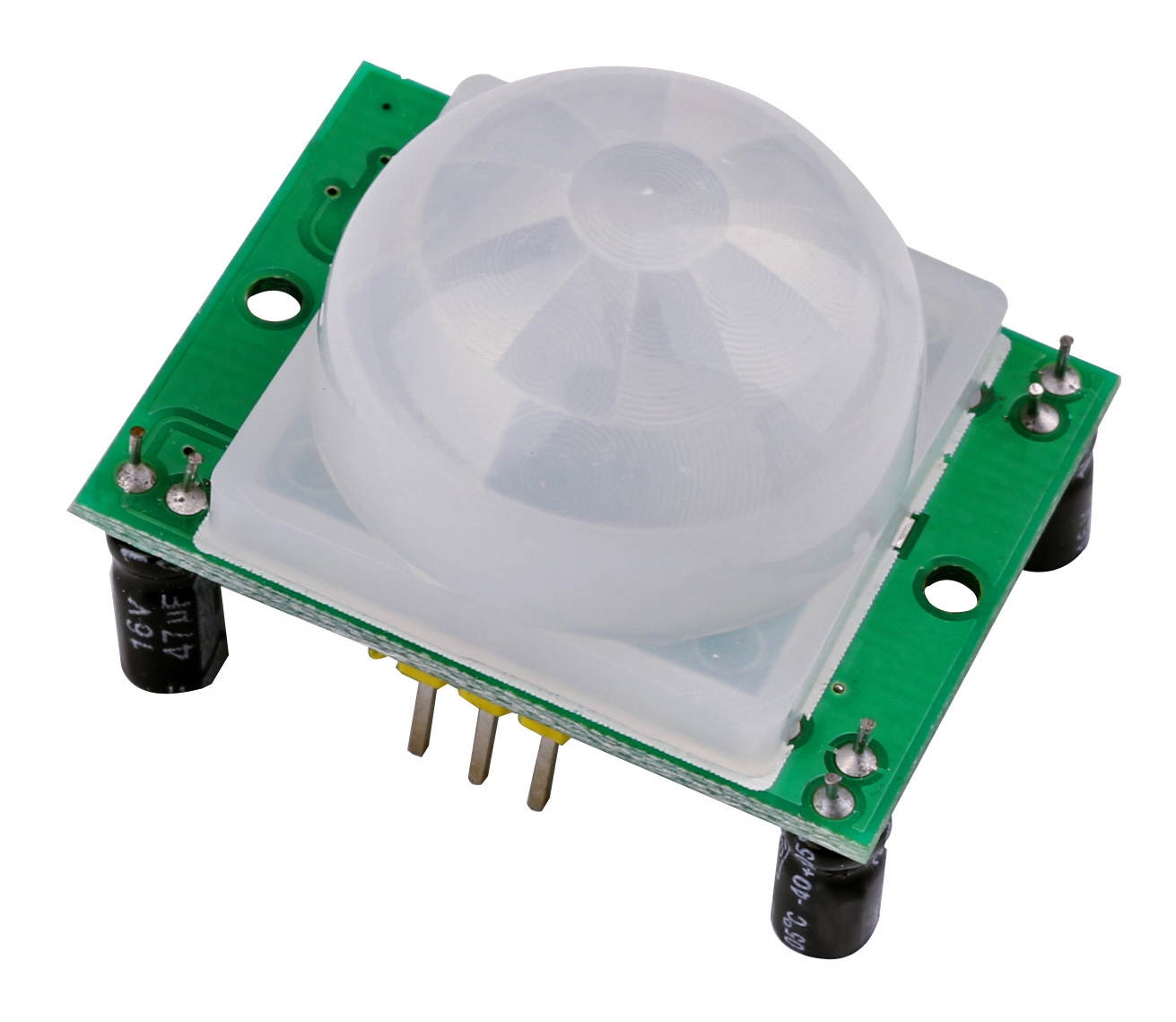 This PIR Motion Detector Receiver Module is designed for use with microcontrollers such as Arduino, Digispark, and Raspberry Pi.
It can be used for automatic-on lighting, automatic starting, anti-theft security alarm, and many other motion detection applications.
Specifications:
Working Voltage: 5V to 20V DC
Static (quiescent) current: 65uA
Output signal: High level 3.3V, low level 0V
Time Delay: Adjustable (0.3s~600s)
Blockage time: 0.2s
Detectable Area: <120°/7M (max)
Sensitivity: Adjustable
Operating Temperature: -15° to +70°C
PCB Size: 32mm x 24mm (1.27″ x 0.96″)
Induction Lens Size (Diameter): 23mm
The time delay adjustment determines how long the output of the PIR sensor module will remain high after motion detection. The range is from about 3 seconds to ten minutes.
The Sensitivity Adjustment varies the range from approximately 3 to 7 meters.
The trigger mode selection jumper allows you to select between single and repeatable triggers. The effect of this jumper setting is to determine when the time delay begins.
SINGLE TRIGGER – The time delay begins immediately when motion is first detected.
REPEATABLE TRIGGER – Each detected motion resets the time delay. Thus the time delay begins with the last motion detected.
HC-SR501 Schematic
Additional Resources:
HC-SR501 Motion Sensor Tutorial on Henry's Bench: http://envistia.info/hcsr501tutorial
HC-SR501 review from JohnAudioTech on Youtube: http://envistia.info/youtubehcsr501jat
HC-SR501 Motion Sensor Tested on Chinese Electronic Products Tested blog: https://chinese-electronics-products-tested.blogspot.com/p/hc-sr501-motion-sensor-tested.html
Copyright © 2016-2020 Envistia Mall
www.envistiamall.com
EM-SENSR-0004