6-24V Input to 5V 2A DC-DC USB Car Charger Buck Step-Down Converter Module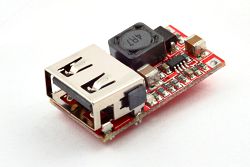 This step-down (buck) power supply module converts its input voltage of 6V to 24V to a fixed 5V USB output at up to 2A continuous output current.
It is ideal for providing a regulated 5V USB output to charge your iPhone, Android phone, tablet, or any other USB-powered device. It can be powered from a 6V, 9V, 12V, or 24V battery, solar panel, wind generator, or other power sources.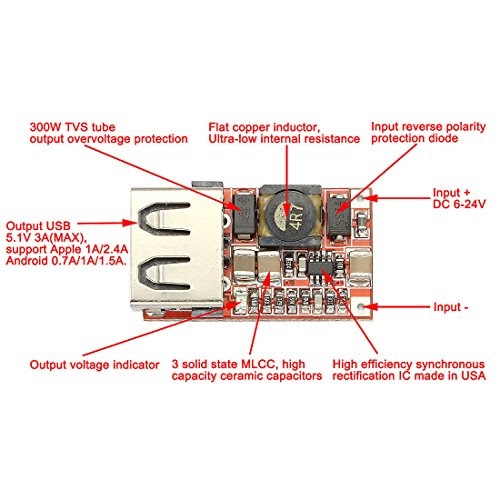 Specifications:
Non-isolated buck (step down) synchronous rectification converter module
Input voltage: 6V to 24V DC
Input connectors: Solder pads
Output voltage: Fixed 5.0-5.2V
Output connector: USB
Output current: 2A continuous maximum
NOTE: With input voltages less than 10V, the maximum output current is limited to ~1A. Operation above 1A output current requires >10V input voltage.
At input voltages above 12V @ 2A continuous output current, please enhance heat dissipation with additional heatsinking or forced-air cooling.
Conversion efficiency: Up to 97.5% at 6.5V input 0.7A, 94% at 12V input 1A output.
Switching frequency: 500KHz
Output ripple: 10mV at 12V input 2A
Output indicator: Red LED
Operating temperature: Industrial grade (-40 degree to + 85 degrees, at higher ambient temperature, the output power may need to be derated)
Output overvoltage protection: Yes, input 1.5A fuse, output 300W TVS clamp protection
Static current: 0.85 mA
Load regulation: +/- 1%
Voltage Regulation: +/- 0.5%
Dynamic response speed: 5% 200uS
Output short circuit protection: Yes, but please do not leave short-circuited for an extended period
Input reverse polarity protection: Yes, reverse polarity protection diode
Dimensions: 26mm x 14mm x 8mm (L x W x H)
Copyright © 2017-2021 Envistia Mall
www.envistiamall.com
P/N EM-POWER-0021